From Wikipedia, the free encyclopedia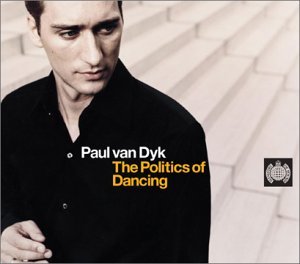 Paul van Dyk (born Matthias Paul ; December 16 , 1971 in Eisenhüttenstadt , Germany ) is one of the world's leading trance DJs and producers . Grown up in East Berlin , Paul kept in touch with the outside world by listening to smuggled-in mixtapes , and he began to make mixes for his friends. In 1991, after the fall of the Berlin Wall , Paul began to be more creative with his musical instincts. His first production, in collaboration with Cosmic Baby as Visions of Shiva, was released in 1992. In 1993 Paul made a name for himself with his remix of Humate 's "Love Stimulation" and his nights at legendary Berlin nightclub E-Werk . In 1994, Paul's debut album 45RPM was released.
By 1997 Paul had made quite a name for himself as a DJ, and his second album Seven Ways established himself as a pioneer in the trance genre. This was his first real success in Britain , with the singles "Forbidden Fruit", "Seven Ways" and "Words" producing huge club hits at the height of the British superclub phenomenon. As Paul himself puts it, "by the time they realised I was German, it was too late!" One year later in 1998, 45RPM was released in the UK, reaching number 1. To mark the event, and in homage to the now closed nightclub, Paul released his "1998 E-Werk" remix of "For An Angel". This track is widely regarded as one of the best dance records of all time, and captured the mood and emotion of the melodic trance scene being born in the British superclubs. To complete his dominance of the trance scene, Paul also took up a residency at Sheffield 's Gatecrasher Club . In a brave move, Paul declared himself anti-drugs, but instead of alienating himself from his fans this statement led to many Gatecrasher regulars sporting home-made "No Pills, Pure PvD" t-shirts by the beginning of 1999. Paul was once quoted that there was "no E in PVD" - meaning not only that he was against drugs but also a note to journalists that there was no E at the end of 'Dyk' (it was a common misspelling as 'Dyke'). That year also saw the birth of Vandit Records , in which Paul van Dyk has a controlling share, and the release of Vorsprung Dyk Technik: the remix collection which went on to sell over 60,000 copies in the UK alone.
In 2000, Paul proved he was still ahead of the game with his melodic yet dancefloor-friendly third studio album, Out There And Back , which included the hit single "Tell Me Why (The Riddle)", a collaboration with Saint Etienne. 2001 marked the release of his first mix album The Politics of Dancing , and after another heavy round-the-world year of DJing, Global the DVD was released in 2003.
Paul van Dyk's fourth album Reflections was a more melancholy affair, and was sparked off from Paul's trips to Africa . Released in 2003, Reflections includes the single "Nothing But You", a collaboration with Hemstock & Jennings. Since the album's release Paul has continued his worldwide DJing dates, hosting a show on Radio Fritz every Wednesday, and managing Vandit. 2005 sees the release of "The Other Side", a single which preceded a fifth studio album - The Politics of Dancing 2 .
Paul van Dyk has established himself as one of the most influential figures in the field of dance music over the last decade as both a DJ, and a producer. In his latest gigs, he is blurring the line between DJing and live performance engineering by utilizing two Powerbook laptops sporting Serato Scratch and Ableton software, enabling for a more full-featured club experience more akin to a concert than a standard night out at a dance club. On-the-fly remixes and compositions are just some of the capabilities of this new performance method.
Even today, Paul is considered one of the best DJs in the world (as he was voted #1 in DJ Mags Top 100 Poll in 2005 breaking Tiësto 's streak of being #1 three years in a row), and continues to take trance music to exciting new levels.